Fresh Homemade Pappardelle with Buttery Wild Mushrooms & Thyme
Recipe by our partner Amanda Frederickson

See more pictures and tips from Amanda on her website here!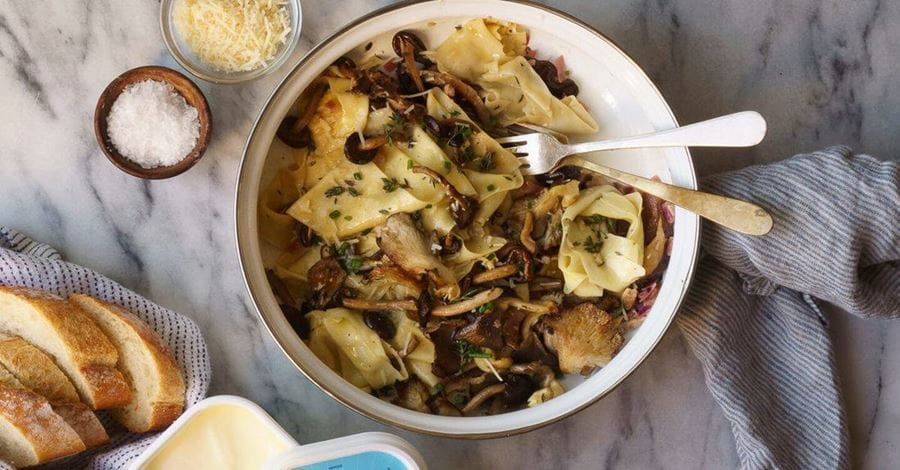 Ingredients
For the fresh pasta:
3 cups all-purpose flour
2 eggs
4 egg yolks
2 Tbs. Brummel & Brown Spread, melted and cooled slightly
Pinch of salt
2 Tbs. water, if needed
For the mushroom pan sauce:
4 Tbs. Brummel & Brown Original Spread, divided
1 1/2 lbs assorted wild mushrooms, stems removed and sliced
Pinch of salt
1 red onion diced
2 cloves garlic, minced
2 tsp. fresh thyme, chopped
1/2 cup dry white wine (or chicken stock)
Garnish with chives
Fresh cracked black pepper
Instructions
Fresh Pasta:
On a clean counter top place the flour. Using your hands make a well in the center. Carefully add the eggs, egg yolks, Brummel and Brown Spread, and a pinch of salt. With a fork, begin to carefully whisk the egg mixture bringing in the flour from the edges until completely incorporated. Use your hands to knead the dough for about 6 to 8 minutes or until the dough is smooth but tacky, adding 1 teaspoon of water at a time if dough is dry. Cover dough with plastic wrap and let it sit at room temperature for about 1 hour (or, you can make your dough up to one day ahead and refrigerate overnight).
Divide the pasta into 6 pieces. Using a rolling pin, hand crank roller, or pasta attachment, roll each pasta dough piece into thin sheets (with a hand crank roller, start at the widest setting and work down to the most narrow setting). Repeat with remaining pasta pieces. If shaping into pappardelle, fold one pasta sheet onto itself 3 times. Using a sharp knife cut the pasta into 2" pieces. Repeat with remaining pasta. Toss pasta with semolina flour and let dry on a baking sheet for about 30 minutes before cooking (this is a great time to prep your mushroom pan sauce!).
When ready to cook the pasta, bring a large pot of salted water to a boil. Cook the pasta for 2 to 3 minutes (it cooks very quickly!) and drain, reserving ½ cup pasta water for the pan sauce. Return pasta to pot and toss with a little bit of Brummel & Brown to keep the strands from sticking together. Cover and keep warm.
Mushroom Pan Sauce:
Melt 2 tablespoons Brummel and Brown Spread over medium-high heat in a large skillet. Add the mushrooms and a large pinch of salt and cook for about 3 to 5 minutes or until the mushrooms are soft and seared to a golden brown. Remove and set aside.
In the same pan add 1 tablespoon Brummel and Brown Spread. Add the onion and cook for 2 to 4 minutes or until onion is soft. Add the garlic and thyme and cook for another 30 seconds.
Add the white wine to the pan, scraping up all the good bits from the bottom and stirring gently. Cook wine for about 2 to 3 minutes or until reduced by half. Add the remaining tablespoon of Brummel and Brown Spread and stir until melted.
Add the reserved mushrooms, the cooked pasta, and a drizzle of the reserved pasta water if needed to loosen the pan sauce.
Taste for salt and pepper then garnish with chives and serve immediately.