Brummel & Brown Original Spread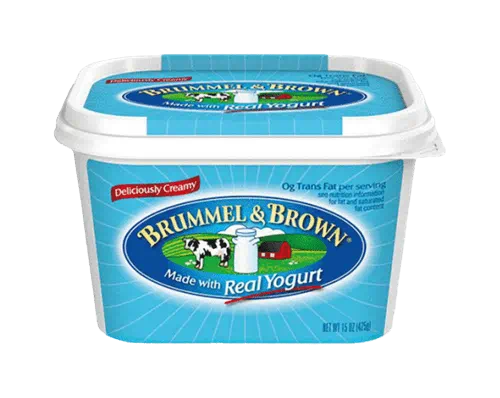 Discover the sweet, creamy taste of Brummel & Brown buttery spread, made with the wholesome goodness of real yogurt. A deliciously smart choice with 1/2 the fat and calories of butter* and 0g cholesterol per serving. Use in place of butter for spreading on toast, melting on vegetables, or sautéing meat. Check out our recipes for more ideas and delicious inspiration!
Made with real yogurt and plant based oils
50% less fat and calories than butter*
Gluten free
0g Cholesterol per serving
0g Trans fat per serving
*One serving (1 tbsp.) of butter contains 100 calories, 11g total fat, 7g saturated fat, while Brummel & Brown Original contains 5g fat (1.5g saturated fat) and 45 calories per serving.
Highlights
45 CALORIES/SERVING
5g TOTAL FAT
0% CHOLESTEROL
Brummel & Brown
Ingredients
purified water
soybean oil
nonfat yogurt (cultured nonfat milk – adds a dietarily insignificant amount of cholesterol)
palm kernel and palm oil
modified corn starch
salt
mono and diglycerides
potassium sorbate (used to protect quality)
lactic acid
lecithin (soy)
natural flavors
vitamin a palmitate
beta carotene (color)