Cod with Warm Farro & Vegetable Salad
Cooking time

30 min

Prep time

15 min

Portions 4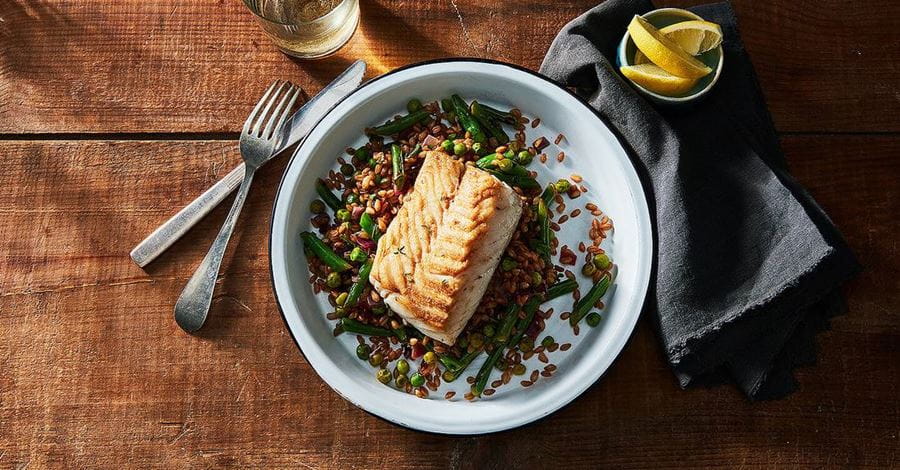 Ingredients
2 Tbsp. flour
2 tsp. fresh thyme leaves
1/4 tsp. salt
Freshly ground black pepper to taste
4 cod fillets or halibut fillets, (about 5 oz. each)
4 Tbsp. Brummel & Brown Original Spread
1 cup coarsely chopped fresh green beans
1/2 cup chopped red onion
1/2 cup frozen green peas
2/3 cups farro (makes 2 cups cooked)
1 tsp. grated lemon peel
2 tsp. chopped tarragon
1 Tbsp. lemon juice
Instructions
Add 2/3 cups farro to 2 cups water in a medium saucepan (optional: add 1 tsp Brummel & Brown for more flavorful farro). Bring to a boil, then reduce heat to medium low and simmer 30 minutes. Drain off any excess water, cover, and set aside.
While farro is cooking, chop green beans and onions and set aside. Combine flour, thyme, salt and pepper on a plate, and coat cod in flour mixture and set aside.
Melt 2 Tbsp. Brummel & Brown spread in large nonstick skillet over medium-high heat. Add green beans, onion and peas and cook, stirring occasionally, until tender, about 8 minutes. Remove from heat to a bowl and cover to keep warm.
In the same skillet, melt remaining 2 Tbsp. Brummel & Brown spread over medium-high heat and cook cod filets about 4 minutes on each side, until fish flakes and has a golden brown crust.
Add farro and toss. Serve cod over warm farro & vegetable salad and enjoy!