Greek Stuffed Peppers
Cooking time

40 min

Prep time

15 min

Portions 4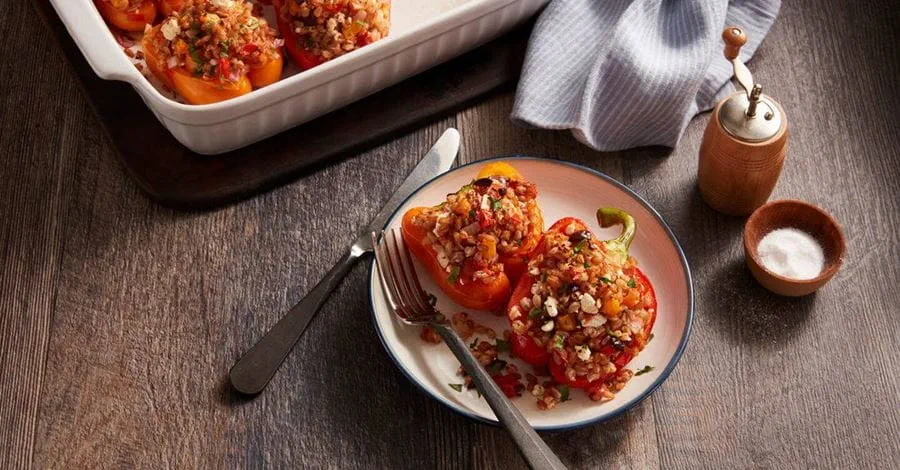 Ingredients
5 large red, orange and/or yellow bell peppers
1/4 cup Brummel & Brown® Spread, divided
1 cup chopped red onion
1 clove garlic, minced
1 tsp. dried oregano leaves
3 cups chicken broth or vegetable broth
1 cup farro
2 large vine-ripened tomatoes, chopped
6 Tbsp. crumbled feta cheese
1 Tbsp. chopped, pitted Kalamata olives
Instructions
Preheat oven to 375°. Halve 4 peppers lengthwise and core. Arrange cut sides up in 13 x 9-in. baking dish. Core and chop remaining pepper; set aside.
Melt 2 Tbsp. Brummel & Brown® Spread in large nonstick skillet over medium-high heat and cook chopped bell pepper, onion, garlic and oregano, stirring occasionally, until vegetables are crisp-tender, about 7 minutes. Add broth and bring to a boil. Stir in farro and tomatoes and simmer, stirring occasionally, until farro is tender and liquid is absorbed, about 20 minutes. Remove from heat and stir in feta and olives.
Spoon mixture into peppers. Cover and bake 40 minutes. Uncover, top with remaining Spread and bake 5 minutes or until peppers are tender. Sprinkle, if desired, with chopped parsley.