Chicken & Broccoli Rabe Sauté
Cooking time

10 min

Prep time

10 min

Portions 4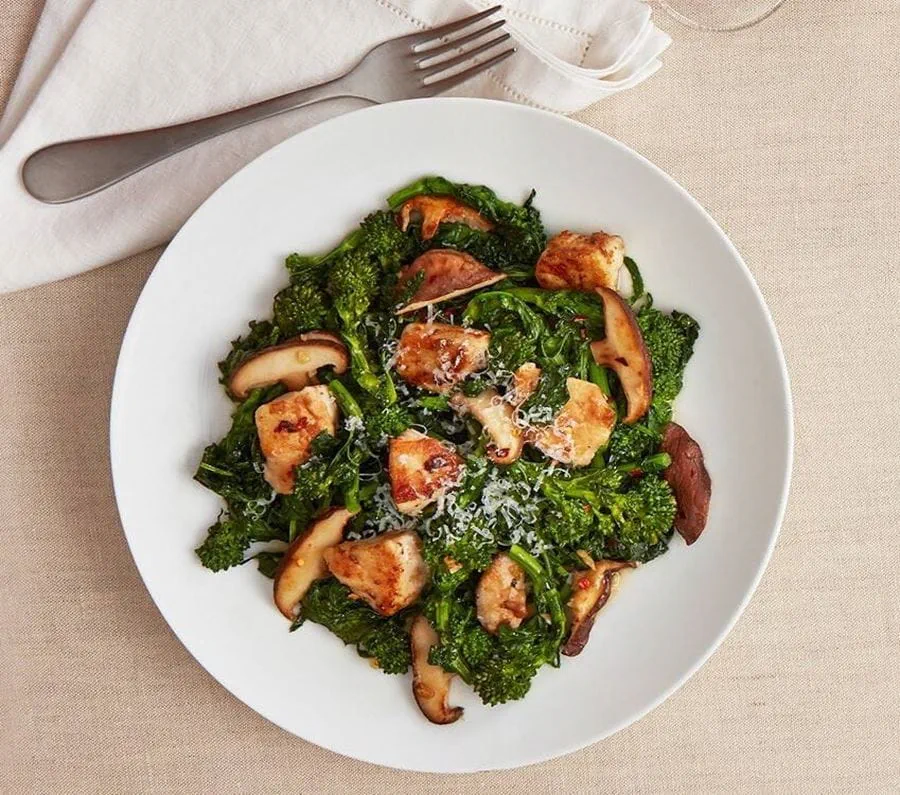 Ingredients
12 ounces boneless, skinless chicken breasts, cut into 1-2 inch chunks
2 Tbsp. all-purpose flour
4 Tbsp. Brummel & Brown Original Buttery Spread
1 bunch broccoli rabe, (about 12 oz.), ends trimmed and cut into bite-size pieces (about 8 cups)
4 ounces shiitake mushrooms, stems removed, sliced
2 cloves garlic, minced
1/8 tsp. crushed red pepper flakes, or to taste
1/2 cup fat free reduced sodium chicken broth
1 1/2 tsp. honey
1 Tbsp. grated Parmesan cheese
Instructions
Coat chicken with flour. Melt 1 1/2 Tbsp. Brummel & Brown Original Buttery Spread in large nonstick skillet over medium-high heat and cook chicken, stirring occasionally, until browned and thoroughly cooked, about 4 minutes. Remove and set aside.
Stir in garlic and crushed red pepper and cook, stirring, until fragrant, about 30 seconds. Stir in broccoli rabe and chicken broth and bring to a boil. Reduce heat and cook until broccoli rabe is tender, about 1 minute. Stir in chicken and honey.
Sprinkle with Parmesan cheese.
To reduce the bitterness of broccoli rabe, blanch it before sautéing.